People who love to explore the virtual world worship Terraria for its same quality. One can create new worlds, craft new items, mine for resources, etc. Terraria provides you all this and a vast world to explore. Gamers all over the globe look for such features or even more interesting ones.
Games like Terraria
It's an uber-cool game that demands more time from you, but if you are bored of it and want some spice without leaving your comfort zone, then I've listed games like Terraria. Their gameplay, storyline, or features are somewhat similar, so try and have fun. So, let's dive in!
1. Minecraft ($26.95)
The first one on our list of games like Terraria is Minecraft. If you don't know about it, you are missing a lot of fun. It has sold over 180 million copies, which is a considerable feat. Don't think that kids play this; adults have joined this fantastic world too. This sandbox game focuses more on mining rather than combat. If you love Terraria, which is a sandbox genre, you'll see no reason to dislike Minecraft. Download it for your PC from the link below.
2. Starbound
Starbound is another one of games like Terraria. Virtually a 2D game, the story is set in the space. The Earth is destroyed in this realm, so the player is thrown to the outer space. Expect to play several missions in a colossal universe. If you enjoyed playing Terrario, then Starbound will leave you spellbound. Download it from the link below.
3. Raft
A multiplayer game, Raft tests your survival instincts in the face of the sea. Even though Terraria and Raft look quite different, the core gameplay is familiar. You'll be stranded in the ocean without any escape, which means you'll need to carve one for yourself. Players start this a past time but end up spending hours in the virtual ocean. You'll notice subtle elements that might remind you of Terraria. So, download it from the link below and explore the sea, Terraria style.
4. King Arthur's Gold
Just like Terraria, King Arthur's Gold has its players indulged in combat for hours. The gameplay feels familiar to Terraria, of course. Its RPG elements make it a worthy Terraria substitute. Moreover, it will further affect your storyline. King Arthur's Gold lets you build fortresses to protect yourself and your people from the enemy's attacks. It's a great game if you already prefer Terraria. Download it from the link below.
5. Craft The World ($18.99)
The next on our list of games like Terraria is Craft the World. It quickly amalgamates the sandbox genre with strategy and crafting genres, which offers exclusive gameplay. You'll be in the realm of a Dwarf Kingdom wherein you have to convert a small colony into a kingdom with all the other dwarves. Trust me, and you'll be on it for long hours.
As for the gameplay, it draws subtle experiences from Terraria yet offers something different. If you wouldn't mind exploring a game, Craft the World is for you. Keep in mind that you'll have to pay the price to get into this realm. Download it from the link below.
6. Treasure Adventure Game
Treasure Adventure Game is a fantastic 2D game and has its open-world elements. If building things is a must for you in a game, look elsewhere since this game only lets you explore. But that's too good! Experience change in seasons/weather, unique environments, and interactive NPCs that form the crux of the gameplay. It definitely reminds me of Terraria.
A lot of us are homebound, so exploring sounds just about right. Embark on an open-world journey that will take you as far as the oceans go. Download Treasure Adventure Game from the link below.
7. Asteria ($2.99)
Asteria is one of the best games like Terraria, which is an amalgamation of the sandbox, sci-fi, open-world, and platformer genre. The gameplay will blow your mind. In this world, you can destroy, collect, craft, and everything you set your eyes on, which is cathartic. Explore the world and look for a place where you can mine goods that will be useful for you later in the game. If you can pay, this game will be totally worth it. Download it from the link below.
8. Ancient Domains of Mystery
https://youtu.be/8c8zkdO6Law
Ancient Domains of Mystery is a fabulous game that focuses on strategies and combats. The realm is quite huge to explore, along with the NPCs. Mine, craft, and grow items once you collect the needed resources. Moreover, this game has a vintage look to it, so expect nostalgia of the older games you played. ADOM is a decent alternative to Terraria, so download it from the link below.
9. Dwarf Fortress
Dwarf Fortress is one of the best games like Terraria, which puts gives a new taste to adventure games. You play as dwarves who want to build a fortress, and thus, you'll be searching for resources to do the same. By building a fortress, you create a shelter to fight monsters who attack at night. The purpose of the fortress is to protect your kind from the monsters by strategizing. The gameplay is fun and keeps you hooked on, Download it from the link below.
10. Dig-N-Rig
Even though Terraria's 16-bit look was trolled initially, we all came to love it. Dig-N-Rig brings back the same experience with its artistic looks. The block-like visuals will make you miss the 80s-90s PC aura. You'll be playing as a robot who goes to any lengths to get the needed resources. You'll be focusing on collecting resources and mining, but the gameplay is similar to Terraria. It's a great game, which is worth a try. Download it from the link below.
11. Goliath
The next on the list of games like Terraria is Goliath. The gameplay requires you to make gigantic robots punch monsters in the face. And to survive these attacks, you'll need to build fortresses and shelters. For this, you'll need to allocate resources strategically. The design of the game feels premium and looks terrific. Download Goliath from the link below.
12. Epic Inventor
Think of Epic Inventor as a mixture of Terraria and Minecraft that has sandbox rudiments. It's visually pleasing. It's not just a sandbox game; you'll see elements of action, RPG, and platformers that will surely enhance the gameplay. The best part about the game is its open-source specification, and it is free to play. Those interested in solo or with teams will be happy to know that both options are present here. So, explore, roam, mine, or do anything random and have fun playing Epic Inventor. Download it from the link below.
13. Spelunky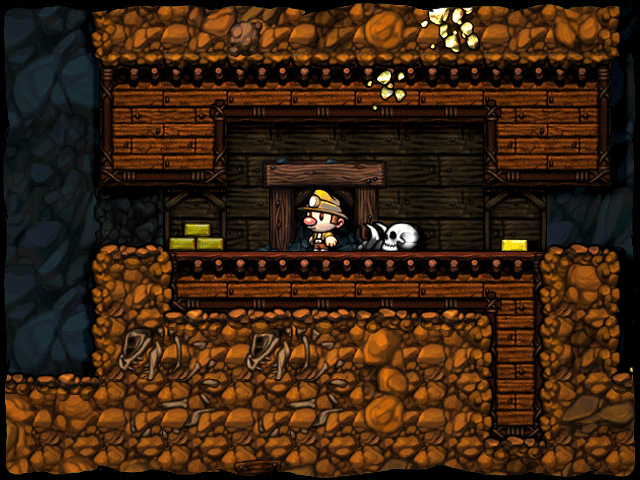 Spelunky is amongst games like Terraria that has excellent gameplay, and you'll never run out of the fun. This platformer game gives you a random world every time you open the game. The gameplay requires you to look for shiny treasures deep under the ground. But to get the treasures, you must fight the monsters that live near the treasures. This game is a sweet mixture of action, adventure, and platformer genres, which gives you a rewarding experience. Download Spelunky from the link below.
14. SteamWorld Dig ($9.99)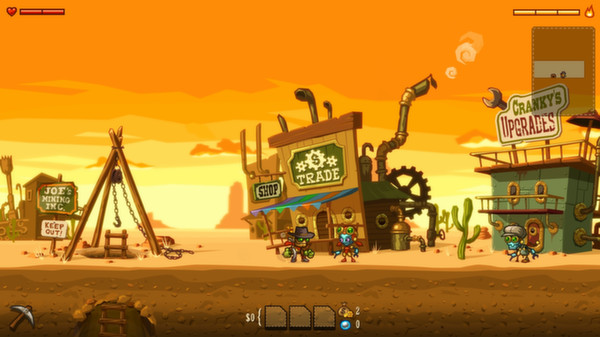 Steam World Dig is like Terraria that offers a fabulous mining adventure in the gameplay. You'll be playing like a robot, Rusty, who sets off on a journey wherein you'll explore treasures and riches along with threats. Like a few other games on this list, the realm in this game is randomized, so expect the gameplay to be quite exciting every time you open it. Overall, it's a decent game and will keep you hooked on for hours. Download SteamWorld Dig from the link below.
15. Don't Starve ($14.99)
If your idea of spending a weekend is playing a gloomy, dark, and survival game, then Don't Starve should be your choice. You'll survival skills will be tested severely. And to survive, you'll be building structures with the help of resources that you acquire along the way. Craft tools to enhance your living experience. As I've already said, it's a dark game, so don't expect it to be colorful; it would be a juxtaposition. To enjoy the said dark time, you'll be paying $14.99, but it's worth every penny. Download it from the link below.
16. Junk Jack ($6.99)
Junk Jack 2 is the next one on our list of games like Terraria. This sandbox game will make you explore various planets, 12 to be exact, in a 2D format. Fight, explore, and create whatever hits your mind. If you've always wanted to have a pet but real-life constraints you, you can redeem the feeling in this game by adopting a pet of your choice; you can capture other animals as well. Junk Jack's deep crafting elements will make you go on and on for hours. So, download this $6.99 game from the link below.
17. Crea ($14.99)
Crea is an RPG game mixed with sandbox elements. This 2D game offers you tonnes of things to do that include developing your skills, making items to your heart's content, and fighting several monsters. In Terraria, you are able to create a narrative that is suitable for you, but Crea takes this experience to a whole new level by its own mythos and history. If you still can't get Terraria out of your head, then add Crea to the list. Download it from the link below.
18. The Blockheads
The penultimate game on our list of games like Terraria is The Blockheads. I know I have said it a lot of times, but this game reminds me of Minecraft and Terraria; it's like this is their love child. You'll be surrounded by a vast world of the block where climate and weather systems are available. Like other games on this list, you'll be mining, crafting, exploring, and fighting off monsters. The blockheads are like your family, so they'll be needing your assistance. Helping in terms of food, rest, and shelter, among other things. Explore this fantastic game by downloading it from the link below.
29. Deepworld
Deepworld is the last one on our list of games like Terraria. It has a lot to offer in terms of the gameplay, its aesthetics, and crafting processes. This sandbox game makes way for an exciting adventure with its smooth gameplay. The multiplayer aspect of the game lets you interact with other players in this deep world, pun intended! The experience is immersive, and you'll end up having a lot of fun. Download it from the link below.
FAQs
Are there any games like Terraria?
There are tonnes of games like Terraria, but Minecraft, Starbound, Dwarf Fortress, Junk Jack, Dig-N-Rig, etc., come quite close to it.
Is Minecraft like Terraria?
Yes, Minecraft is a near-perfect game that is ever-so similar to Terraria. This sandbox game is quite impressive and worth the money!
Conclusion
These were a few games like Terraria. They all have some of the features that match the classic game. Explore, craft, mine, and build your own world. I could fit only 20 games for this list, but if you know some more games like Terraria, let us know in the comments section.