Blizzard Entertainment's Overwatch is still a popular game that critics use to test the performance of a machine to determine its gaming prowess. This first-person multiplayer shooter game revolves around teamwork.
You simply don't shoot, you adapt! Its character abilities are marvelous along with the commendable objective gameplay. It's a game that is revered by pedantic nerds, but you'll agree with me that playing one game repeatedly makes it banal and it then loses its charm.
I wouldn't judge you if you'd say this about Overwatch. The gaming realm is churning out fabulous games that are worth your money and time.
Games like Overwatch
So, if you want to play another game but want its gameplay to be like Overwatch, I've curated 20 such games that might help you scrape the Overwatch itch. So, without any delays, let's have a look at games like Overwatch.
1. Warframe
Warfare is the first to cut our list of games like Overwatch. The story is quite straightforward, but the gameplay is adventurous. There's an eternal war going on which has irked the Tennos soldiers so much that they want to end it, by hook or by crook. There are subtle differences between Overwatch and Warframe but the fans of the former game would feel right at home. Still, you'd get a new experience while playing it.
Although, I must mention that Overwatch fanatics would notice the color difference since Warframe is a smidge less vibrant. But like Overwatch, you'll have to make a team and relish the gameplay. Download it from the link below.
2. Team Fortress 2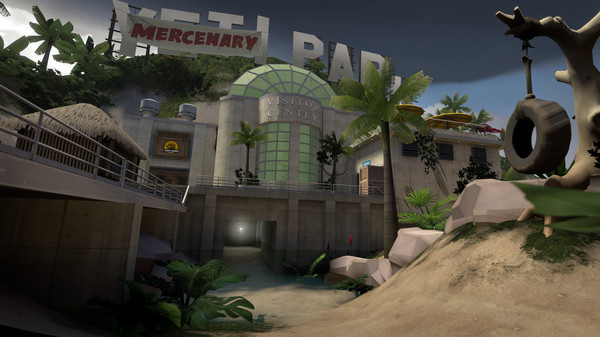 Released back in 2007, Team Fortress 2 feels like it fell from the same tree as Overwatch. This too is a team-based shooter that focuses on the strategy to defeat the enemies. The gameplay is superb and won't let you down. If you've thoroughly played Overwatch, you'll think that Scout is like Tracer. Not just that, you'll reminisce, Scout, when you see Hanzo; the resemblance can't be pure coincident!
The game has received quite a few updates, especially in the customization segment – which is better as compared to Overwatch. The player-edited maps are functional. Overall, it's a worthy replacement of Overwatch so download it from the link below.
3. Paladins
Paladins is the third title on our list of games like Overwatch. Many people are still of the opinion that this game is a direct imitation of Overwatch but those who've played both the games would disagree. It feels like Paladins is a part of the Multiplayer Online Battle Arena Video Games (MOBAs) rather than a haste copy-paste job. Keep in mind that the concept art of this game was created long before Overwatch.
Talking about the game, players get to customize their characters with the help of a card system that will make you stand out, no matter what. While the damage caused by Paladin isn't something to write home about, its attacks are of high mobility. Download it and play the game; I'm sure that you'll enjoy it.
4. Counter-Strike: Global Offensive
Counter-Strike doesn't need an introduction since it's much like a genre in itself (sadly, it isn't!) This multiplayer shooting game can replace the storage space of Overwatch. The Global Offensive variant sees two teams who are friends and are out for blood. Terrorists and Counter-Terrorists are the said teams and players must go through nine game modes to stop their vile plans. There's also a battle royale game-mode and a danger zone where professional shooters could easily take a long spin.
You can't go wrong by selecting CS GO as a simple yet feature-packed game. Give it a chance by downloading it from the link below.
5. Tribes Ascend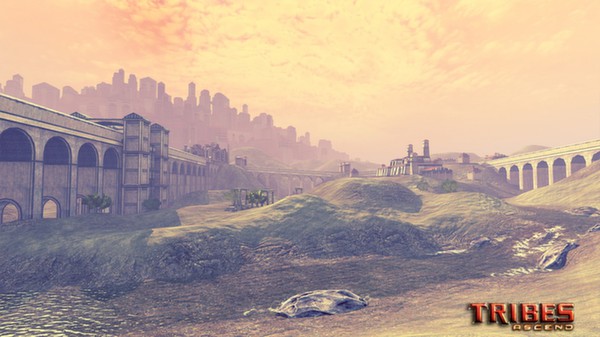 A fast-paced shooting game Tribes Ascend deserves a place on our list of games like Overwatch. It has the potential to overthrow Overwatch, any given time. There is a structured system that helps players with tonnes of options. Set in the future, Tribes Ascend could remind you about Halo, when it comes to the gameplay. From jetpacks to mechanics, this game offers too much, considering Overwatch. Moreover, ensure that you have easy reflexes since during the gameplay.
This will slow your PC a tad bit but nothing serious to worry about worry. So, download it from the link below and ascend to this similar yet descriptive world.
6. Plants vs. Zombies: Garden Warfare 2 (₹200)
This unique tower defense and strategy game is the next one on our list of games like Overwatch. It has evolved and offers a different approach to shooting games. You might wonder what's the similarity between Overwatch and this game? Well, both have cartoon-styled graphics and a lot of shooting takes place. PvZ: Garden Warfare 2 wants you to choose a side – plants or zombies – and wreak havoc on the other side.
As you know, each character, be it a plant or a zombie, offers different traits that will help you win the battle. This light-hearted shooting game will surely get you through this lockdown. It's worth a try and your money.
7. Brink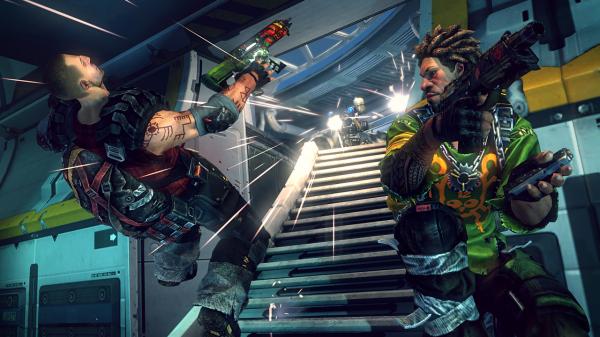 Bethesda's parkour-style game deserves a place on this list since it lets 16 players play either in a co-op game or against other players. You get to choose between an Engineer, a Soldier, a Medic, and an Operative. All these characters have exceptional skills that will take you ahead in the gameplay. This game's core functionality depends on groups or teams, which is why Overwatch has gotten all the love. Oh yes, there's customization and loads of them.
Moreover, with experience points, you can buy unique abilities, which is uber cool! Even though Brink is quite different, it's also like Overwatch. Download it from the link below.
8. Dirty Bomb
Dirty Bomb is a great objective-based shooter wherein you must work as a team to stop the other factions that blow up and steal things. It involves a lot of shooting. There's a carousel of heroes that you can swap anytime you wish. You'll find the run-and-gun tactics here which is fun. To win, players must work together as a team. It is quite similar to Overwatch, so you don't need to worry about trying something new. Still, you can explore unseen things.
9. Apex Legends
The next on our list of games like Overwatch is Apex Legends. It's a fantastic battle royale game where players can explore Titanfall 2. Yes, I'm aware that Overwatch isn't a battle royale game but keep reading. In Apex Legends, the fate of your mission depends on teamwork, which is what makes it a smidge like Overwatch. Explore King Canyon with the help of players of your choice.
Just like Fortnite and PUBG, you'll need to use your survival instincts; loot, and store important items to be the squad that endures it all. You can choose to go solo but what's the fun in that. Download Apex Legends from the link below.
10. PlanetSide 2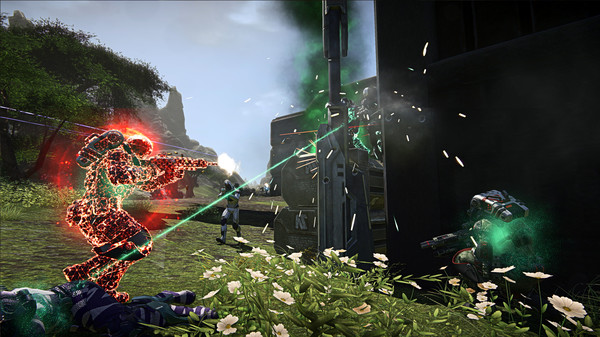 If fighting a war is your thing, then PlanetSide 2 is a great title. The gameplay involves around three armies that are fighting against each other to control the battlefield. You'll be within the enemy's target, so watch out! Take charge of aircraft, tanks, and other ground-based vehicles to aid your forces. Over 50 players face each other in this fierce war. It's not entirely like Overwatch but its exceptional gameplay will keep you engaged in this lockdown. Download PlanetSide 2 from the link below.
11. Blacklight: Retribution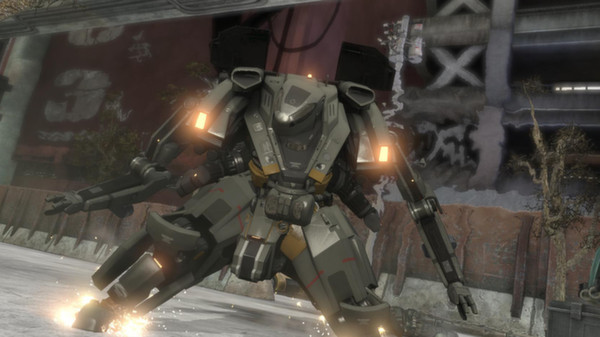 Blacklight: Retribution is the next one on our list of games like Overwatch. This cyberpunk game opens doors to a realm of customization. You'll be overwhelmed with the options. There are various load-outs as well. The game has tonnes of weapons that if used correctly, will make you the best shooter. The gameplay involves a lot of styles but I'm not sure everyone would take a liking to them. Overall, it's a distinctive FPS game that will require your time, but you'll enjoy it, nevertheless. Download it from the link below.
12. Squad (₹ 1,393)
Why would you want to pay for a game that is similar to Overwatch? The answer lies in its gameplay. It focuses on teamwork, followed by strategy and communication. The visuals look life-like; they are flawless and will keep you wanting for more. Be its armada, vehicles, and the combat-ready gameplay, Squad won't let you down. The communication aspect that I mentioned is aided by a radio and a positional VoIP. So, strategizing with your squad will be impeccable. Download this game from the link below.
13. Doom (₹479)
Doom was the first-ever first-person shooter that I played back in 2006. Most of us did. To bank on Nostalgia, Bethesda released a graphics-intensive reboot that is still considered to be one of the best FPS around. Although the teamwork aspect is completely missing from the gameplay, you'll prefer going solo in an action-packed demon-shooting game. As you'd expect with any modern games, Doom's graphics are jaw-dropping. The demons from hell come alive on your screen and the experience is epic.
There's also a multiplayer mode with arena-style combat. Even if it's not eerily the same as Overwatch, it deserves a place on your gaming machine. If you an avid fan of FPS games, you can't go wrong with Doom. It is available at a 70% discount on Green Man Gaming, I grabbed the sweet deal and so should you!
14. Bleeding Edge (₹699)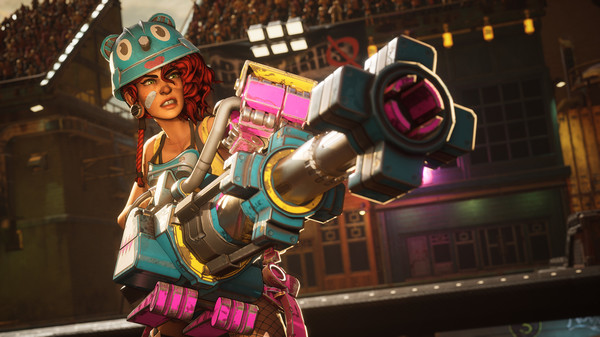 Like its name, Bleeding Edge's gameplay is, eh, bleeding-edge! In this game, you win fights with your fists or augmented hands. So, if your idea of an FPS is just a myriad of guns, then this isn't for you. Explore the world of cybernetics who makes a weird team of enhanced beings taking advantage of their modified bodies. You'll need some time to figure out the gameplay and when you do, you'll be obsessed with it. The game has some tips to guide you so yes, it's worth your time. This fits the bill of games like Overwatch. Download it from the link below.
15. Red Eclipse
The next one on our list of games like Overwatch makes up for what Overwatch lacks. Red Eclipse is a power-packed action game that ticks all the right boxes of being an FPS. The list of its features includes dashing, pangs of boosts, and parkour which can hit a gamer's adrenaline. If you can't do without customization, Red Eclipse should be your next game since it offers tonnes of that. Destroy the rival's camps with rare weapons. To make the gameplay more personal, players can create maps with their folks. I'm no gaming critic but Red Eclipse can take the mantle from Overwatch unequivocally!
16. Gotham City Impostors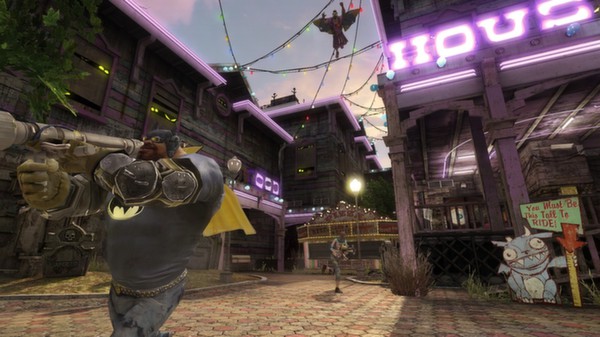 Before you visit the website and download the game in a haste, let me tell you that the gameplay excludes Batman or his enemies in this unusual offering. You'll be playing as Batman fans who are hell-bent on destroying Joke fanatics. I honestly didn't think that this game would be fun without the protagonist or an antagonist. Maneuvering and movements make the core of the gameplay, just like Overwatch. Different and rare tools help both sides to help win the battle.
The armory of weapons includes homemade weapons, which is unusual for an FPS. Moreover, I saw a fat guy wearing a Batman suit so, there's that. If weird but cool is your thing, definitely give these impostors a shot! Download it from the link below.
17. Warsow
The next on our list of games like Overwatch is Warsow. This FPS is considered by many as a suitable replacement of Overwatch, which is saying something. Warsow focuses on the speed so expect this fast-paced arena shooter's gameplay to be swift. There's also a feature that doesn't show too much bloodshed. Overall, Warsow is a capable game. Download it from the link below.
Warsow is an action-packed first-person shooter that can be an able substitute for Overwatch. The fast-paced arena shooter features challenging gameplay where speed proves to be the differentiator factor. As a player, you have to adopt all sorts of ways to eliminate enemies. Be it jumping, dodging, dashing, or wall-jumping, you need to excel in each aspect to take control of the game. If Overwatch claims to have one of the most exciting gameplays, Warsow is not behind either.
One of my favorite features of Warsow is that it keeps nasty graphical violence away without decreasing intensity. So, if you hate to see blood flying around in an action-packed first-person shooter, you would appreciate this feature.
18. Battleborn
You might not have heard about Battleborn as Overwatch released a few weeks later but quickly captured the market. Overwatch is a great game but Battleborn has a few tricks up its sleeve. Even if it's one of the FPS that yet again puts the focus on teamwork. It's a solo mode, or single-player in gaming dictionary is worth a look. If you play it for a while, you'll quickly realize that the strategies are much better then Overwatch. Like a few other games on this list, you can choose to play from any character's perspective. Download it from the link below.
19. Destiny 2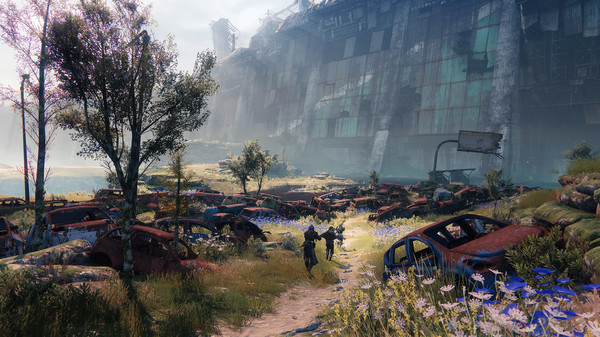 Overwatch and Destiny 2 are like chalk and cheese, but it does have a fantastic cooperative play, which what the former is about. Its uniqueness makes it a part of our list of games like Overwatch. Apart from teamwork, communication is imperative if you would like to steal things and finish off your enemies. After playing a lot, the gameplay feels an amalgamation of Hunters, Titans, and Warlocks. If you and your buddy want to explore a world, it should be Destiny 2's. Download it from the link below.
20. Block N Load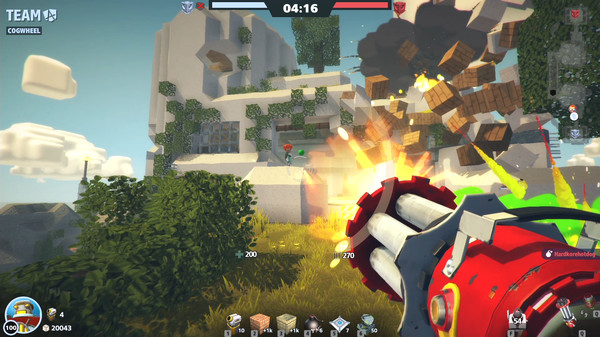 The last on our list of games like Overwatch feels as if FPS and sandbox genres had a baby. Block N Load offers you the best of both the worlds – some Minecraftian block building and competitive first-person shooting experience. The gameplay reeks of a strong offense and defense. The characters are fun and are equipped with their one-liners, Hollywoodesque move. Block N Load is similar to Overwatch and you'll see that at the beginning of all the matches, where both the teams take time to build the base in order to protect Generator cube, this game's damsel in distress.
So, if you lose the match, your team fails. This is quite like Control Points seen on Overwatch. Overall, Block N Load is a decent alternative to what Blizzard has to offer. Download it from the link below.
FAQs
Can I play Overwatch in 2020?
Overwatch has managed to stand on its own in the fierce competition. Considering the internet is filled with articles about games like Overwatch, I'd say Overwatch would still be popular five years down the line.
What are the best games like Overwatch?
All the games mentioned in this list are somewhat like Overmatch. But Warframe, Planetside 2, Brink, and Paladin are unequivocally the best games like Overwatch that you can try.
Conclusion
It takes a village, they say! Not a village, but a team is what you'll need to ace the amazing games like Overwatch. If you find Overwatch boring now or want to try something different but by staying in the comfort zone, trust all the titles mentioned in this list. Choose a game start shooting the halfwits because right now, we have nowhere to go and nothing to do. So, vent all your frustrations in the game by shooting the bad guys. Barring a few games, all the Overwatch alternatives are free. The paid ones don't cost much, and they are worth your money.
Why are you looking for an Overwatch alternative? Have you played a similar game like Overwatch but isn't on this list? Let us know in the comment below.