Compressing files is a menial task for someone using a PC on a day to day basis. But when it comes to the software to help in compression of such files isn't the concern of a lot of people. Most of us have used WinRAR and even though it shows a pop-up for payment, no one has ever paid for it. When it comes to functionality of the application, the features are quite basic, and to use the good tools, you'll need to spend the buck. But fret not as I've curated a list of free WinRAR alternatives that are far from basic. At least compressing and decompressing would be much easier. So, let's dive in!
What do compression and decompression mean?
Before we dive into the list of software, I should make the concept of compression and decompression clear to you folks of you don't already know. Sending large files through an e-mail is quite impossible since the file size is capped at 25MB (at least for Gmail). By compression, you make a consolidated folder of the multiple files which reduces its size and then comfortably hits the Send button. Such files end with .zip, .sit and .tar. You can download compressed files faster because they are smaller in size and easy to transfer.
Free WinRAR alternatives and similar
To use a compressed file, one must decompress it to use the files within the compressed setup. In short, you restore the file to its original size by decompression. To decompress files like .zip, you'll need a good software like WinRAR, 7zip, etc.
1. 7-Zip
One of the best free WinRAR alternatives is 7-Zip. It's a free, open-source tool that offers high ratio compression. I'm talking about an improvement of 10% over the likes of WinRAR and WinZip. If you plan on compressing files in 7z format, you'll see a compression up to 30-70%. Keep in mind that it all depends on the file types. 7-Zip lets you swiftly zip or unzip files that bear formats like ZIP, 7z, ZIP, RARA, TAR, WIM, and GZIP. It's an excellent software that's an easy replacement for WinRAR.
2. PeaZip
I knew file compressors are so powerful when I used PeaZip. It's still my go-to file compressor. This isn't your traditional software where you can only compress/decompress. There's more to PeaZip than meets the eye. You can encrypt your files, batch extract them, and add filters to file types. The software also lets you extract certain files while extracting. All formats are supported but just to give an idea, 7z, XZ, BZ2, ZIP, RAR, TAR, and GZ are the file types that you pronto extract or compress. Download PeaZip from the link below which is an amazing free WinRAR alternatives.
3. B1 Free Archiver (Windows, Mac)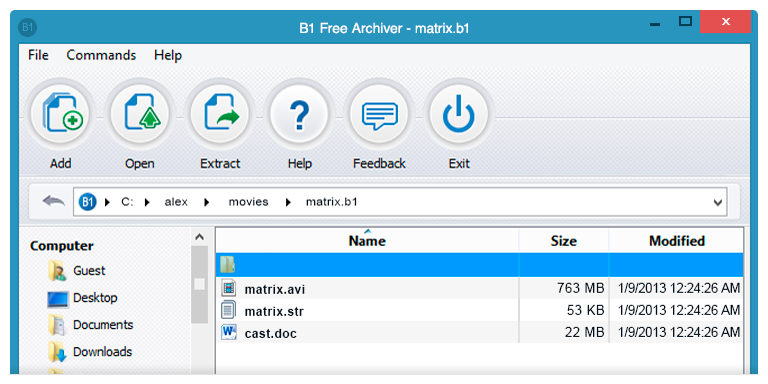 B1 Free Archiver is available for Windows and Mac but that's not the only reason it made this list. People who have a bit of an idea about interfaces will appreciate the professional layout. It's eye-catching. This software also offers online tools that earn it a brownie point. If you don't want to download software just to compress or extract files, you can use the online tool. Moreover, online Archiver lets you download software on restricted computers. B1FA also supports 7z, b1, zip, rar, arj, xpi, jar, txz file types, to name a few. 
4. Zipware
An overly simple and effective software, Zipware is a great tool to compress and decompress your files. The user-interface is super handy. You'll quickly notice huge colorful buttons that lead to different options. Zipware isn't just beauty without brains; it can easily scan files to detect if the files have viruses or no. Download it from the link below.
5. Bandizip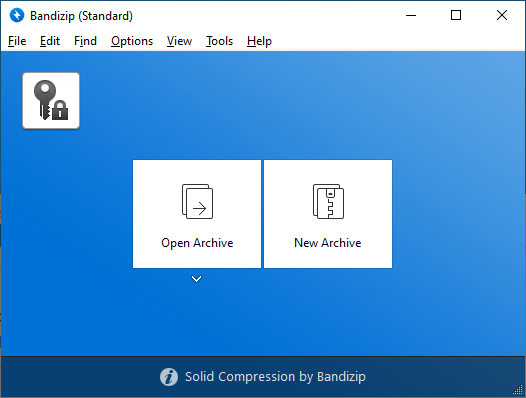 Bandizip is the next on the list of free WinRAR alternatives. Like Zipware z Bandizip too scans for viruses before opening the files so you don't need to worry about your computer's safety. The software also supports multi-core compression. High-end computers will be able to make complete use of this feature. Moreover, Bandizip lets you encrypt files in either AES 256 or ZipCrypto. Download it from the link below.
6. Extract Now
If you are looking for a free tool that has an easy user-interface, Extract Now should be your choice. Keep in mind that it can only unpack or decompress the files so if you want to compress files, you should move on to the next software. It does support multiple extractions at once. Extract Now supports all the popular formats. Download it from the link below.
7. Hamster Zip Archiver
Hamster Zip Archiver is a great compressor that offers a high ratio and 2x faster compression as compared to other software. You can select the compression levels that you can protect with a passcode. There's a built-in cloud service that can be shared on the internet. All well-known formats are supported. Keep in mind that it comes with adware during the installation. Overall, Hamster Zip Archiver is an excellent WinRAR alternative. Download it from the link below.
8. The Unarchiver (Mac)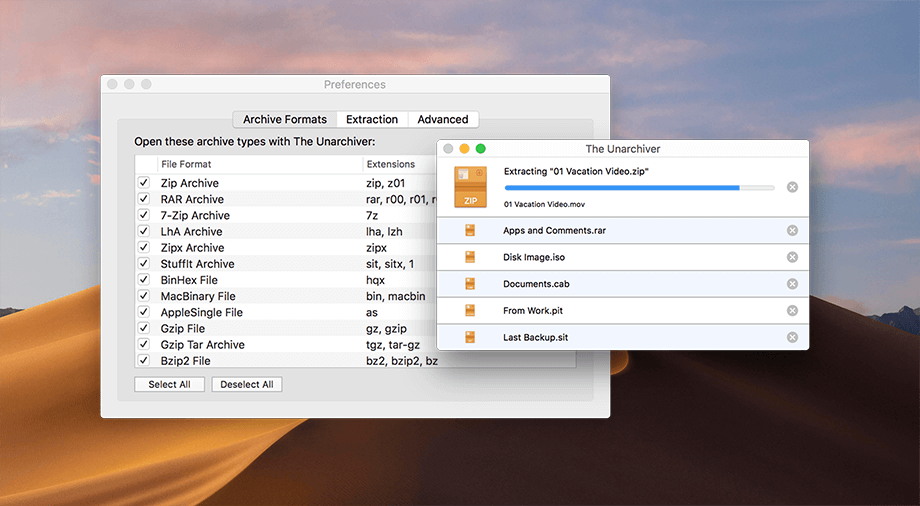 Now we come to the Mac section. When it comes to the compressor, The Unarchiver for Mac is one of the best free WinRAR alternatives. Unlike the Archive Utility program, The Unarchiver supports many formats. If you are someone who enters foreign characters on your files, this one won't budge. If you are using a Mac with 10.6 or lower OS, it won't compress files. Moreover, you won't able to extract individual files from a full iso/rar/zip file. Despite its certain flaws, The Unarchiver is a great tool. Download it from the link below.
9. Keka (Mac)
Many Mac users are upset that 7-Zip isn't available to download on their PC. Once you use Keka, you'll feel right at home. Technically speaking,  this is a ported version of the 7-Zip  so extracting 7z, zip, tar, etc. Won't be a major task. The software also offers a faster compression. Moreover, you can set the compression level. You can also set a passcode so that no one can pry on your files. But the compression process is a bit complicated since you'll need to drag and drop the files to compress them. Download Keka from the link below.
10. BetterZip (Mac)
The next on our list of free WinRAR alternatives is BetterZip. It does live up to its name. Apart from the usual compression and extraction, BetterZip is, eh, better at organizing files. The quick user interface lets you handle office work quite professionally. You can even have a preview of the files that you'd be extracting, although it takes its sweet time. The free version is quite commendable but if you wish for more, there's a paid version that costs $24.95. Download BetterZip from the link below.
11. iPackr (Mac)
iPackr released back in 2011 and it has come a long way since then. Compression and decompression of files are quite easy and it lets you open these files swiftly since it has a 64-bit computing feature. iPackr lets you compress files by just dragging and dropping the files. It works on multiple files. Being a robust software, it still can't compress RAR files. It's also a bit slow while decompressing RAR files. It's good and one of the free WinRAR alternatives.
12. SimplyRAR (Mac)
As the name suggests, SimplyRAR is a great compressor software for Mac. It's been long since it was last updated since the firm is no longer operational. Still, SimplyRAR is stable and functions the way it should. The UI is easy to navigate and when it comes to the formats, it supports plenty of them. Also, those of you using the latest version of macOS High Sierra should know that there's a bit of an issue during the installation process. Overall, SimplyRAR is a decent WinRAR alternative. Download it from the link below.
13. Zipeg (Mac)
Zipeg is a great WinRAR substitute that is super flexible. If your work is simply compressing and decompressing files, then you should look no further than Zipeg. It is adept at handling technical stuff better than other options. The design is intuitive and goes easy on the eyes. Zipeg also works with Facebook and Gmail so that's a bonus point. Although it isn't as solid as other software, Zipeg is still functional. Download it from the link below.
14. The Archive Browser (Mac, $3.99)
Yes, I know the listicle clearly mentions free WinRAR alternatives, but not recommending The Archive Browser would leave this list incomplete. Although you'll have to pay $3.99, it's worth every penny. The Unarchiver allows the extraction of only iso/rar/zip files but The Archive Browser is limitless. You can preview the files before downloading them, extract files without unarchiving them, and extraction of single files from the archives is all that this phenomenal software can do. The Archive Browser supports all the formats, including ARC, ARJ, DiskDoubler, LZHZ, and StuffIt. If you can purchase the software, it'll be a decision you won't regret. Download it from the link below.
15. Zip Extractor (Windows, Chrome Extension)
Those working on Google Chrome on a Windows laptop won't be left out since I have included Zip Extractor which is one of the best free WinRAR alternatives. It's a Google Chrome Extension that helps you extract compressed files from your PC to Google Drive; it does not save the file on your PC's hard drive. This one is for those who don't want to install apps just for a simple task. You can also extract multiple files on one go. Download this extension from the link below.
FAQs
Is there a free alternative to WinRAR?
Yes, there are many free alternatives to WinRAR. You can try 7-Zip, PeaZip, Bandizip, B1 Free Archiver, Zipware, etc. They are all a worthy replacement of WinRAR. Read the descriptions listed above and choose the one you like.
What is a free alternative to WinZip?
7-Zip, PeaZip, Zipware, Extract Now, etc. Are a few alternatives to WinZip.
Is WinRAR still free?
Yes, WinRAR is still free. Anyone who has used it thoroughly knows that despite the 40-day trial, there's no need to pay for the so-called premium WinRAR experience. But since technology has developed and a lot of software has come to the scene, you should consider replacing WinRAR.
Does Windows 10 come with WinZip?
No, Windows 10 doesn't come with WinZip. If you've seen it in the list of installed applications, then it could have been installed alongside another application. Windows has its own compress-decompress option. Simply right-click on the file and select Extract All to decompress the said file. 
Conclusion
There it is. Those are the free WinRAR alternatives. All of the applications are a definite replacement of WinRAR and offer more features and benefits. Being a basic task, one mustn't face a trivial issue while attempting to compress or decompress files.
Windows and Mac users have decent free WinRAR alternatives. They are all feature-packed and of course, gets the basic task done in no time.
Which software do you use to compress or decompress your files? Are you still using WinRAR? Do you want to suggest an application that I didn't include in this list? Let us know in the comments below.