Pluto TV, one of the leading live-streaming platforms is known for offering on-demand content for free. It enables you to stream more than 250 free live channels including top news channel CBSN which can be accessed for straight 24 hrs. It is indeed a robust live TV option. Well, there are various other apps like Pluto TV that also offers thousands of episodes from major networks.
Best Apps Like Pluto TV
The best part is that you don't have to pay a penny to download and use these apps. These Pluto TV alternatives also give you the ability to resume watching on-demand content and even set your favorites from their vast content library. 
Let's take a look at these amazing apps like Pluto TV.
1. Crackle
Crackle is the first name that comes to our mind whenever we think of an alternative to Pluto TV. If you love watching Hollywood movies, then this app is something you must have. It provides most of the TV shows and movies for free of cost. It includes some of the most popular shows like All in the Family, Bewitched which you can enjoy for free. Also, you'll find shows organized in different categories, such as comedy, action, thriller, and horror.
2. YouTube
YouTube is the only platform where you'll find videos for almost every other thing, from entertainment to educational videos, it has all of them. The majority of videos are free to watch on YouTube, however, there are some TV shows and movies that require payment. It equips a straightforward UI which makes it very easy to navigate videos. It also provides you suggestions based on your history. Reaching a worldwide audience through YouTube is far easier compared to other platforms. 
3. HBO Go
HBO Go is just like pluto tv and comes with many browsing options. 
You can browse through different categories including Movies, Series, Comedy, Sports, Documentaries, and Late Night. To get started with, all you have to do is log in to your cable service provider account through the app and you're good to go. Also, if you already have a subscription to HBO via your cable service provider, then you don't have to pay an extra penny.  
4. Tubi TV
Tubi TV is another free streaming service that offers a ton of shows and movies to watch. 
Setting up an account is not mandatory on Tubi TV, however, shows and movies with mature content do ask for a free account. It also suggests interesting movies and shows and recommends shows on your history. Moreover, it is compatible with almost every other device including Android, iOS, Xbox, Apple TV, Amazon Fire TV, and Samsung Smart TV.
5. Hulu
Hulu offers a diverse range of shows and movies to watch. It also creates original shows just like Netflix and amazon prime. You can watch some of the most successful movies on Hulu including Aquaman, A Quiet Place, Annihilation, Crazy Rich Asians, Den Of Thieves, Food Inc., I Kill Giants. However, you might not be able to watch every show in HD as not every show that Hulu offers is available universally. 
6. Crunchyroll
Crunchyroll offers over 1,200 series, many simulcast shows, and is specifically meant for anime fans. All the shows are distributed across many genres, such as action, adventure, comedy, drama, fantasy, music, mystery, romance, and sci-fi. You can also watch Crunchyroll's original anime series, including A Place Further Than the Universe, In/Spectre, and The Rising of the Shield Hero.
7. Twitch
Twitch is quite different from pluto tv in the fact that it contains content mainly for esports and video games. It is free to use but in order to avail of additional features, you'll have to switch to its premium version including the ability to chat with video uploaders. You can watch PUBG showdowns, Minecraft sessions, Hearthstone matchups, and stunning FIFA 18 goals within this app. Also, it may not be an appropriate app for children as it equips some content with harsh language.
8. ShowBox
ShowBox is one of the leading online streaming platforms that compiles a lot of interesting shows and movies. It allows you to stream videos or download them for offline viewing.
You may not find the app on the google play store mainly because it contains content downloaded from torrent. Besides, you get good audio on videos, synchronized subtitles, and much more.
9. Mobdro
Mobdro offers amazing free content from various TV channels like ABC, CBC, CNN, and Cartoon Network. The shows come divided into different categories of channels, movies, sports, and documentaries. It equips a straightforward user interface and also sharing videos with other devices through this platform is quite easy. You can also use Mobdro on your PC and Mac through a third party software.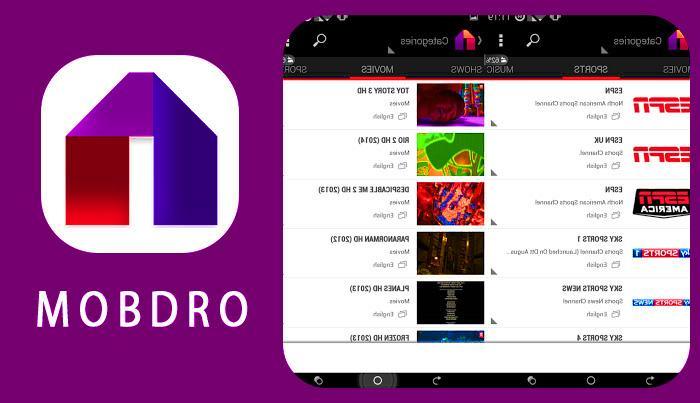 10. VideoMix
VideoMix offers a ton of TV shows and movies that you can enjoy right on your smartphone. You can browse through different contents that come organized in different categories. The majority of the content here is hosted on external servers including putlocker.com, movpod.in, filenuke.com for the ease of users. It induces amazing features but does not equip a friendly user interface.
11. PlayView
PlayView updates its content regularly with new releases so that its users don't spend much of their time finding TV shows and movies on other platforms. You can stream and even download movies and shows in high-quality prints. Through this platform, you can watch unlimited free films, videos, TV serials, shows, sports videos for free. Moreover, it equips movies of all types including adventure, action, animation, comedy, biography, documentary, dramas, fantasy, horror, Sci-Fi, anime, thriller, and much more.
12. PBS Kids
If you're in search of an application that is solely meant for children, then PBS Kids might be the right choice. Most of the online streaming platforms nowadays include mature content which may not be appropriate for kids and that is why handing them over with an app with light content becomes necessary. PBS Kids includes some of the most popular shows such as Sesame Street, The Cat in the Hat Knows a Lot About That, and Curious George and a lot more that will keep your child engaged for hours.
13. MegaBox HD
MegaBox HD is known for its ability to view the latest releases all the time, so you don't have to waste your time searching for movies as you'll find almost everything here. You can stream and even download movies in 360p, 720p, and 1080p qualities. Sharing content on Chromecast or other devices is very easy. Also, you'll not find the app on Google Play, but you can easily download the Megabox HD APK. 
14. YuppTV 
YuppTV offers a wide range of shows and movies including Live Indian TV Channels and the latest regional shows. You can easily browse shows and watch them whenever you want. It includes shows from some of the most popular channels include Sony Max, Rishtey TV, Bindass TV, Star Plus, Aaj Tak, NDTV India, 9XM, Music India, SUB TV, Colors, Zee Cinema, SUB TV, MTunes, Sony TV, Zee TV, Star Bharat, Set Max, UTV Movies and more.
15. JustWatch
JustWatch is another online streaming platform that comes with thousands of TV shows and movies. Most of the shows on the platform are available for free but you can also create a universal wishlist for movies and TV shows that you think you want to purchase. 
You can also search for content based on title, cast, or crew name. All in all, it's a good platform to watch high-resolution shows at an affordable price.
FAQs
What is the best free TV app?
Crackle is one of the leading platforms when it comes to streaming shows and movies online. 
How can I stream local channels for free?
You can easily watch your local networks online using a live streaming service.
Is streaming cheaper than cable?
The cost gets reduced to almost half when you choose streaming services over cable. So, yes, streaming is cheaper than cable 
Conclusion
So this was our pick of 15 best apps like Pluto TV. You can download these apps for free and start enjoying the most likely shows right on your smartphones. Most of the above-mentioned apps feature a diversity of programs and therefore you can enjoy your favorite shows at one single place.  
Have you used any of these apps before? If not, then which of the aforementioned apps are you going to use? Let us know about the same in the comment section below.