Want to host a movie night at your place but can't organize one? Well, what if you can still organize one in the comfort of your home. Yes, you heard it right. With the advent of modernized technology, it has now become possible for people to watch a movie together and have a group chat with the Chrome extension of a particular program.
That said, Rabb.it that was acquired by Kast last year is one of the best web-based services that enable simultaneous group video and text chat with video streaming. There are various others that allow you to chat and react to what you're watching in real-time. Scroll down below to know what functionalities do they have to offer.
Best Rabbit Alternatives
Here in this article, we'll be discussing 20 Best Rabbit Alternatives that will let you watch amazing content with your friends and chat while you're watching it.
Watch2Gether is a perfect alternative to Rabbit where users can access content and chat with friends without manually registering to use the site. They will be provided with a random username once they create a viewing room, however, rooms created by users are private by default and will be deleted after 24 hours. There are videos featuring drug use and sexual themes that are specifically meant for adults where users. Also, users won't come across any sort of language restrictions on the discussion forum while on site. 
Twoseven is basically a video synchronization service where users get to leverage different types of videos. You can video chat while you're watching a video or can simply use the text chat option if you prefer to focus on your show. You'll have to add the Firefox/Chrome browser extension to avail most of its features. Also, make sure that you're signed in to all your streaming services before you start watching videos for the smooth streaming experience.
Metastream is another Chrome/Firefox browser extension for streaming videos where users don't need to actually register or sign in to use the services within the site. Users can invite each other to watch videos and discuss support issues through the Discord chat platform within this site. There are possibilities of users experiencing some issues while trying to view things through some providers as the site is in beta. 
ShareTube is only available for YouTube videos where you can invite others either by copy and paste or sharing your room's name. It does not work on mobile devices and only supports text chat. You can create a playlist and invite multiple people to join your room. All you have to do is choose a username for chatting purposes and you're good to go. No need to register with an email or anything.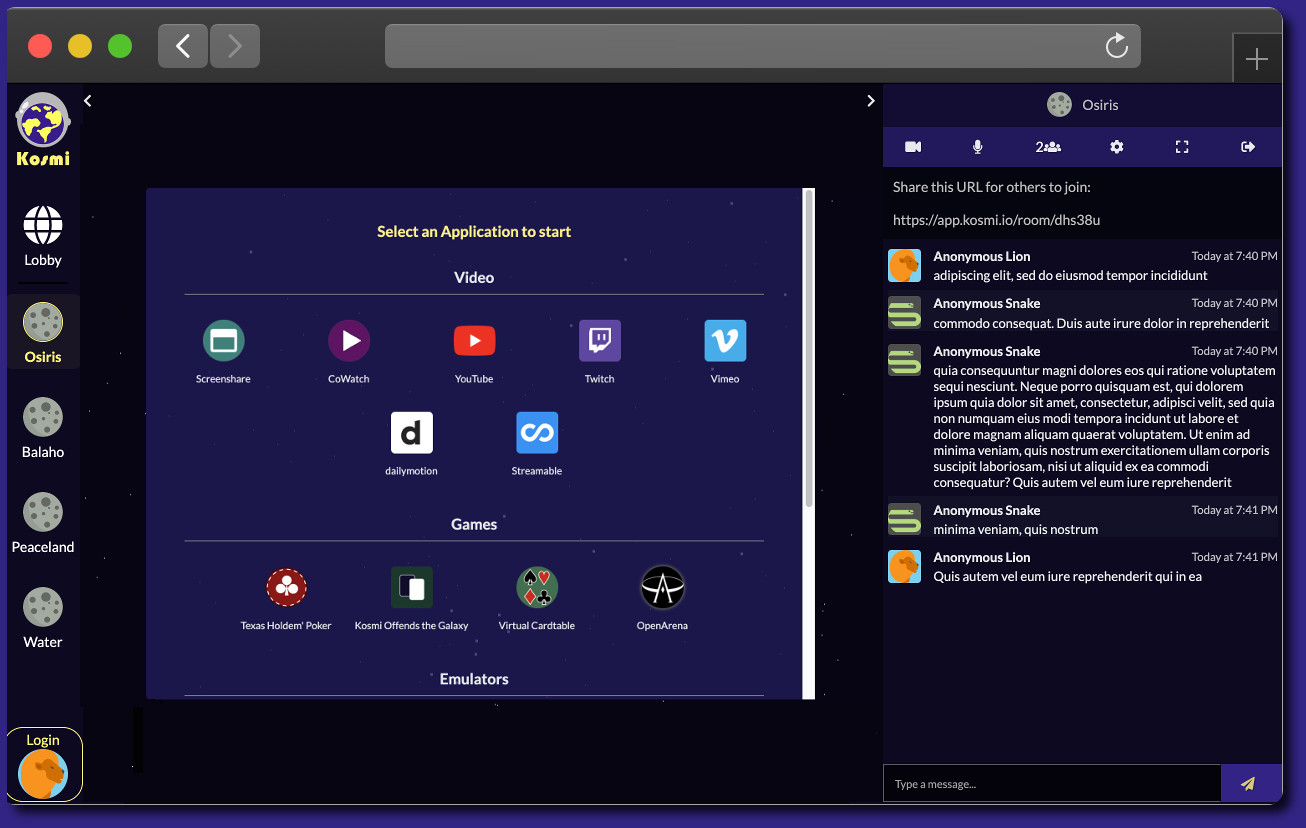 Kosmi is a standalone website where users can create a chat room for playing games, watching videos, and socializing through video, voice, and text chat. The site has an inbuilt ability which allows you to watch YouTube videos and even video files stored on your device hassle-free. Download the movies on your computer or laptop and share them virtually through Kosmi. Moreover, when you share the screen, the other participants don't have to necessarily have a Netflix account.
Want to host a Netflix Party, this site is where you should visit. Just pick a movie or show to watch and this site will automatically sync the playback to all accounts to ensure everybody is watching the same movie simultaneously on their respective accounts. However, everyone who wishes to watch the movie should log in to your separate Netflix accounts. There's also a chat function where you can chat and react to what you're watching in real-time.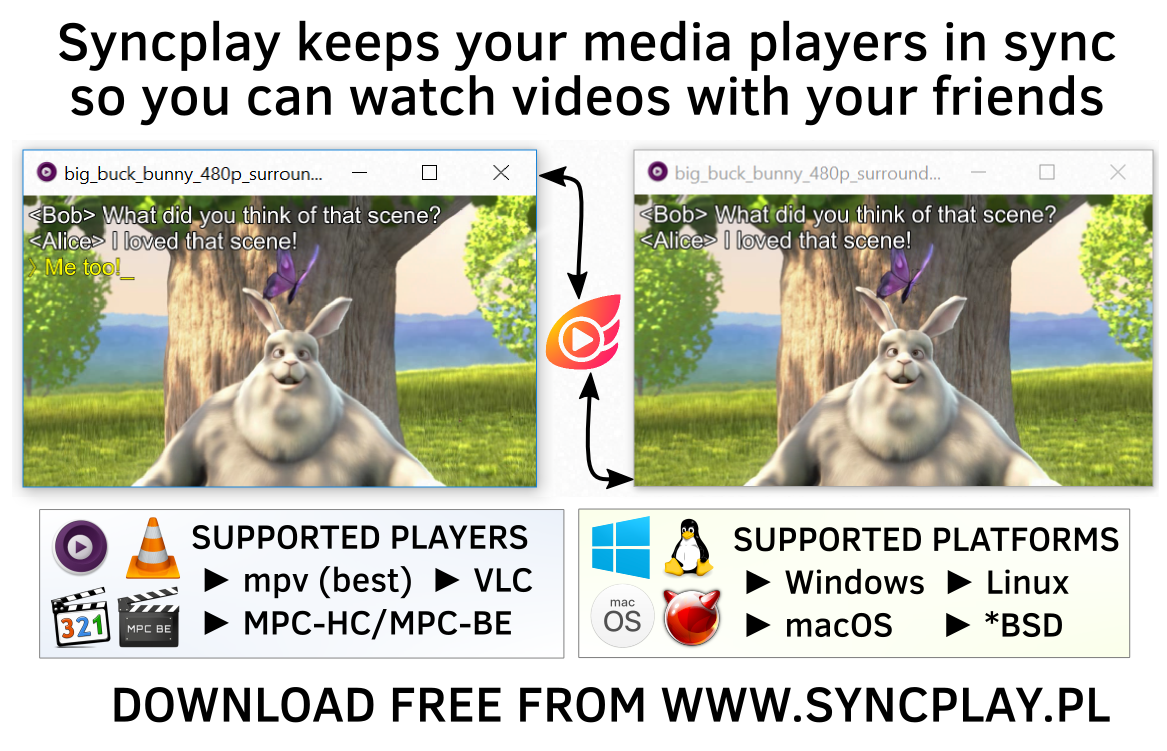 Syncplay is another free software that synchronizes media players allowing multiple people to watch videos together. You can also share information about what files people are playing to so that other viewers can confirm they are playing the same file. Just create the party using the 'Start Watching' button and send the link provided in the extension to all your friends you want to watch the video with.
With SyncLounge, you can stream synchronized content simultaneously on multiple devices. To plex together, the host will need a Plex media server loaded up with videos. You can also use the SyncLounge Player where you'll have access to features such as a chat box sidebar where you can talk to your friends during the movie. Moreover, you can create a room and give it a password with a pre-existing SyncLounge.
With Airtime, you can create group chats/video chats and view any material online, including explicit pornographic material. You can video chat with up to 10 friends at once and react in real-time with animated stickers and sound reactions. You can even pay for one-time access to exclusive live paid events hosted on Airtime. The site is however available for people above 18 years of age. 
Well, this one is only meant for streaming and watching Anime content. All you have to do is pick your favorite anime content from the sites' anime library and you're good to go. You can even create a private room and then share it with your friends. Also, it comes with sync playback and that you will not encounter any major issues while streaming videos. All in all, it is an amazing platform for watching anime content. 
MyCircle.tv is another platform where you can stream videos simultaneously without creating an account. You can simply start watching movies as well as listen to music within this platform. It is easy to navigate and lets you create your own private chat room. Create a room and gather your friends and family around the same video. Moreover, you can enjoy movies, events, series, mangas, gameplay, TV programs, shows, concerts within the myCircle.tv sync player.
Tutturu is a shared browsing service similar to Rabbit where you can invite friends to the room you create. The rooms hosted on this platform use virtual machines and therefore there's no chance your private information is leaked. You can even run a demo and investigate suspicious links without risking your computer itself. Moreover, you can purchase the subscription plan of the site which starts from $5 per month.
Although Parsec is specifically meant for gaming, you can also stream videos on it. With this platform, you can invite your friends and stream videos simultaneously to watch it in real-time.
What makes this platform even more exciting is its ability to let users comment in real-time and interact with them while watching videos. Just like Rabbit, it offers you superior synced playback.
Rave allows you to watch videos from Dailymotion, Vimeo, and Google Drive. You can even share music and videos with your friends that you are listening to and watching while active on this site. The best part is that you can share videos and music directly from your Dropbox. There's an option available for voice chat and the synchronization playback works quite well. All in all, it's amazing for streaming videos with friends. 
Simulchat is another platform where you can watch movies with your friends. Not only does it allow its users to video chat but you can also create private chat rooms, play games, watch movies and share files. However, you can't watch videos from sites like Amazon and Netflix but you can definitely share your own videos and watch them together with your friends. Moreover, you'll need to sign up for the site to use its services. 
Similar to Rabbit, TogetherTube supports various websites like Dailymotion, Youtube, Soundcloud, and Vimeo. Within this platform, you can create private chat rooms or a public one, listen to music, and watch videos in real-time. You can also configure the settings in your chat room and change the name of your room. You can even restrict other users from voting different videos. 
Synaptop allows its users to watch YouTube together in sync with invited friends and contacts. It is free to use but requires you to sign up for an account to use its services. Once you create an account, you can add apps and watch movies, listen to music, play games, read books, and even collaborate on different work projects. You can watch everything online which means that you don't need to download anything. 
AndChill will allow you to create your own private and public chat room from where you can instantly start watching videos simultaneously with your friends from all across the world. Once you browse through the site, you'll notice people watching different shows. You even get to know how many people have actually joined the room and what they are watching. 
Just like Rabbit, Caracal Club also lets you stream a virtual web browser. You can create public or private rooms and the best part is that the host can pass the remote to his friend if he wants to. As it uses a virtual web browser, you don't have to necessarily share your screen with anyone. You can create a room of 40 at the time of writing but can avail of subscription for $5 per month for additional benefits. 
With TogetherJS, you can add a real-time collaboration system instantly to different websites. It is developed by Mozilla Labs and comes equipped with features like real-time collaboration for websites where you can watch movies and shows with your friends. Moreover, it incorporates an open-source JavaScript library which is meant to add the tools and collaborate system to the website of users.
FAQs
Can you watch Netflix on Watch2Gether?
There's also a beta W2gSync feature that lets you paste a Netflix URL directly into a special window in your private room.
What to use instead of the Rabbit?
All of the above mentioned programs can be used instead of Rabbit. 
Can you use Netflix party on TV?
No, you can't use Netflix's party on TV as its extension only works on laptop and desktop computers.
Conclusion
This was our list of 20 Best Rabbit Alternatives in 2020 that you must install on your computer or laptop. All of these programs will let you play music or video files from your computer itself while you remain in sync with your friends and family accessing the same video files. You can even play games and share the video gaming experience with your friends in real-time.
So which one of the above-mentioned Rabbit Alternatives are you going to use? Tell us in the comment section below.